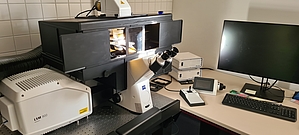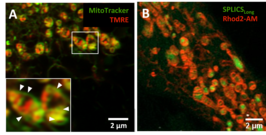 The Laser Scanning Microscope (LSM) 900 with AiryScan was acquired by means of a DFG large-scale device application (§91B) (FKZ: INST 264/175-1 FUGG) and set up on May 6th, 2020 in the Section for Translational Neurodegeneration. Further functions were also established (connection to stationary compressed air and CO2 supply, installation of an additional camera, integration into existing IT structures, online calendar, etc.), so that the complete range of functions (e.g. classic LSM, high resolution (approx. 200nm) ; living cell microscopy, DIC, FRAP) and the device is offered as a core facility.
Access is regulated by a designated person responsible for the device (Dr. Hannes Glaß), who ensures that all users are adequately instructed (hannes.glass@med.uni-rostock.de). There is a current and binding user regulation.
So far, it has mainly been used by the working groups of the Section for Translational Neurodegeneration "Albrecht Kossel" (PD Dr. Frech, Prof. Dr. Dr. Hermann, Dr. Lukas, PD Dr. Luo) with regard to research into protein misfolding, synaptic morphology dynamics and function and cell organelle morphology/function including phenotypic profiling by multiparametric high-content (HC) video analysis. Furthermore, the device is used by:
AG Prof. Dr. Storch, University Medical Center Rostock, Department of Neurology (Projects: DBS in animal models of Parkinson's disease, influence of oxygen on embryonic neurogenesis)
AG Prof. Dr. Köhling, University Medical Center Rostock, Oscar Langendorff Institute for Physiology
AG Prof. Dr. Dr Kipp, University Medical Center Rostock, Institute of Anatomy
used.
Overall, in the period of use to date, it has already been possible to take spectacular images in the resolution range below 200 nm and to carry out a wide variety of analyses.